Features

ECONOMIC BUNDLED SET - Contains 1 vacuum pump and 6 vacuum sealed food bags that are refrigerated, freeze and cook so safely that you can meet all of your daily needs.
FOOD SAFETY TESTED - The vacuum-sealed bags are BPA-free, FDA, LFGB, CSC approved food grade material, reinforced double zipper ensures an airtight seal, strong, multi-layer material, perfect for sous vide cooker and food storage.
MULTIPURPOSE - It can also be used for solid or semi-solid food freezer storage, vacuum preservation, vacuum marinating, and item storage (such as camera, lens, cosmetics, etc.)
PRACTICAL & REUSABLE - The vacuum pump is small enough. The bag can be used again.
EASY TO USE AND CLEAN - Fill and close the vacuum cleaner bag that came with the vacuum sealer. Next, attach the pump to the valve and use the pump to suck out the air. It is cleaned with washing-up liquid with warm water and stored in a clean and dry place after use.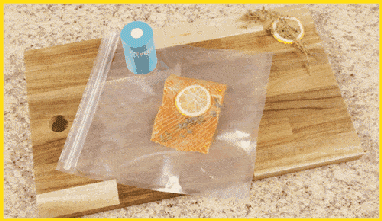 Specifications:
Power Supply: USB charge / battery (2 AA battery, not included)
Bag Size: 2 large (26 * 34cm), 4 small (21 * 22cm)
Package includes:
1 x Vacuum Pump
6 x Vacuum Sealed Bags